All CP & Frame in Feltham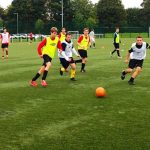 ---
Cerebral palsy football is essentially a modified version of the beautiful game for those with cerebral palsy or other neurological disorders including an acquired brain injury. Although it had been a part of the Paralympics since 1984 it had seen phenomenal growth in recent years and teams and leagues for both men, women and children are becoming increasingly common.  However for many with CP, football still revolves around pan disability teams.
Read more/less

There are essentially two versions of football specifically available for people with CP - for those who require a frame for their mobility and those who do not - although understandably the rules are different.  Non frame CP football is typically played as 7 aside, with one handed throw ins and no offside but otherwise is comparable to the mainstream game.



Frame football is now recognised as a separate game because of the mobility needs of those playing and rules are being adapted accordingly. Most importantly games must be played on a flat smooth service - not grass or concrete - to allow players to move freely while reducing the risk of injury or fatigue. 
---
---