A hub for disability and inclusive football in the UK
Our goal at Inclusive.Football is quite simple – to increase the opportunity for children and adults of any age, gender or ability to engage in football and promote inclusive and disability football across the UK for the greater good.
As parents of a child with a learning disability we are more than aware that it can be difficult for youth and adult players with a disability or health condition to find local opportunities for inclusive football or somewhere to start on their footballIng journey.
Inclusive.Football provides a hub where clubs, teams and organisations that offer and support inclusive football can promote their sessions and find players to join them or attend their events.  Those interested in playing can search for clubs and organisations in their locality or across the UK as a whole or by selecting the recognised inclusive footballing categorIes.  
Organisations, clubs, leagues and specialist bodies offering adult or youth disability football can submit their listings for approval through the reliant add listing page. You will need to register to do this. There is no charge for listings from charities, community trusts and clubs or other not-for-profit organisations.  
Please note: it is the responsibility of individuals to check that the sessions listed on Inclusive.Football are suitable for them and that all the safety and safeguarding processes are in place. To help guide you please see our Blog article about choosing an inclusive session and what to look for.  
About Us
Nick and Tracy Light have been involved in inclusive football for many years as parents, volunteers and more recently for Nick, setting up, managing and playing for a team of players with Parkinson's disease, Fighting Fit Football.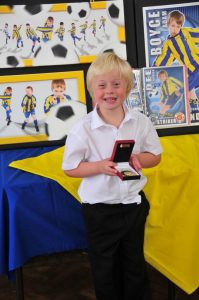 Back in 2010 when their son was 6 years old, they were lucky to find a local grassroots club who offered football sessions for children with a disability and/or additional needs.  Due to their son's diagnosis of Downs Syndrome, his mobility was delayed and joining a mainstream training session was tricky for him as the pace was much faster.
He was able to develop both his confidence and football ability at regular, friendly and encouraging training sessions and still be part of a local football club, which enabled him to feel included in the local community.  Since then his enthusiasm for football has grown more and more and he plays in a local inclusive team which also takes part in regular football tournaments through a local inclusive league.  As well as the physical benefits of playing sport, it provides him with a great social outlet and is able to be part of a team.
As part of the journey, Tracy became involved as a parent volunteer and later became Secretary of Herts Youth Inclusive Football, which is run by a committee of local clubs in Hertfordshire running festivals and tournaments for inclusive teams and helping to build more opportunities and pathways for players to develop their football.
Passionate about sport for all and increasing opportunities for inclusive football across the UK, Tracy & Nick started Inclusive.Football to build a hub where players of any age, gender or ability can get into, or develop, their football and to help promote the development of inclusive football.