All Amputee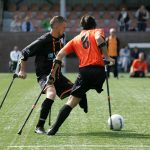 ---
Amputee football is played by individuals who have congenital limb deficiencies and those who have lost their limbs or have restricted use of their limbs.
Outfield players are typically single-leg amputees whilst goalkeepers are single-arm amputees although in the UK there is some flexibility that allows arm amputees to play outfield.
Read more/less

At a formal competitive level players may not wear their prosthetics but instead can use crutches for balance and speed, although these cannot be used to control or pass the ball.

Experienced players can move themselves and the ball around the pitch at a pace and intensity which at times can leave able-bodied footballers in the shade. 

If you've never watched amputee football then we recommend you go and watch a game as you can't help but be impressed by the speed, skill and agility of the play, especially in the Amputee Leagues or at a national level.
---
---