All Blind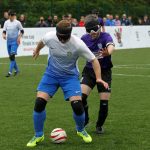 ---
Blind football is essentially a modified version of futsal designed for players who are blind or visually impaired. Like futsal, a blind football team is usually made up of five players comprising four blind players and a sighted goalkeeper. Using a ball that contains loose ball-bearings to help identify its location, acoustic perimeter boards, and vocal support from coaches and keepers to help guide their location on the pitch, experienced players can maintain excellent close ball control and move around the pitch at speed.
Read more/less

At a competitive level outfield players are expected to be completely blind, rather than partially sighted, and also wear eye coverings to equalise any variations in perceptive light or shadow.   However, in reality teams in the UK are keen to encourage the development of blind and visually impaired football as a whole and so variations do exist at a grassroots level.

Watching blind football is an amazing experience as you soon begin to appreciate not only the speed, but also the accuracy and ability of the players. The game is similar in pace and intensity to the one played by sighted teams, with players demonstrating the same skills, passion and commitment to their fitness. Just remember to only show your appreciation during breaks in play otherwise you will inadvertently interfere with play. 
---
---